One of the many things I never anticipated when we left our bustling city (well - suburban), life behind for the quiet of the farm was the epic sunsets we'd be invited to view. I was so wrapped up in selling our former house, renovating our current house - it WAS uninhabitable for us when we closed on the purchase - caring for the youngest of our children often separated from their father and older siblings because of the project, teaching and administrating for my former employer, and in general trying to just hang on, that I'm not sure I would have thought to look up or around no matter where we lived.
And, then, the big push was all over. We'd birthed this new life and there's been a long season of newborn wonder for us first timers. I used to wonder if I'd stop noticing at some point - the glory all around me. Does even the most grateful tenderest of hearts grow accustomed to the indescribable?
I think I'm coming to understand that I won't grow accustomed to it. As a mother holding newborns, bringing them home, nurturing and seeking to capture the essence of being in their presence, gazing deeply into their faces, counting toes, fingers, and each breath I didn't want to miss a moment. I
knew and I still know
not to take anything for granted. Although I know now in a rough sense what to expect - like I did with our second born and subsequent children - each day brings something new.
Perhaps we're growing out of infancy here. It will be our 3rd summer and shortly we'll mark the 2nd anniversary of our move. We are expanding our enterprise with more animals and we hope a substantially more ambitious garden. Although we renovate the house at a snail's pace, we're having to aggressively forge new skills as we save the barn and rebuild its foundation. I don't think we'd be able to do those things if we were still so green.
There is one thing that is super brand spanking new each day - the sky. Even though I cast my gaze in the same direction each morning for the sunrise and again in the opposite direction for the sunset, I'm stunned each time by the heart soaring spirit searing beauty of the sky.
So, like I've done with every baby, I've kept my camera close. How many pictures can a momma take of each tiny curl, each wisp of cloud? Each chubby fist, each silhouetted tree? Each soul splitting smile, each technicolor evening?
I've not yet reached my limit.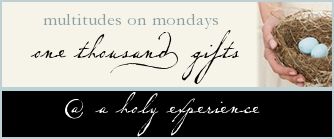 -Unceasing ability (God created...) to give thanks, conceive gratitude, nurture thanks, and daily labor and birth contentment.
-2nd born son - so pleasant to be with. fun. witty. striving. tenderhearted and made alive in Christ.
-First concrete pour completed in foundation of barn. Hundreds more to go, but this milestone moves us forward.
-Oh happy news - 4 Simmetal cows arriving soon. Maybe this week?
-Beautiful, rich, aged manure regenerating garden soil.
-Young bones and body as firstborn girls mucks animal shelters.
-Sweet heart that joyfully and obediently "scoops poop"
-An unconventional thank you gift in response to an offhand comment. The true joy is a friend who listens.
-Achy back heals itself and when I do healthy things my fearfully and wonderfully made frame responds positively.
-Hum, or perhaps roar, of lawnmower slicing off spring's first flush of grass, pungent sweet smell in the air.
-Weekend Farmer Husband's generous spirit as we appliance shop for the first time in our 1/4 century together - he says nothing of the sticker shock. No purchase yet...will require a whole kitchen remodel once we get started. Perhaps that's why we creep forward at a snail's pace - it's some form of self preservation?
- 4th round of chemo almost complete for my father. Stem cell transplant begins this week. He's quiet. No news, no updates, no communication. I receive this as good news.
-A spring break of sorts. Not planned, but we've completed much of our work. Will plan, update, and refresh sources while enjoying the space.
-Six baby chicks peeping in the barn. Early arrivals thanks to a weak moment in the feed store. They produce such joy in the little girls - who could say "no"?
-Eyes to see, ears to hear, and a heart alive because of the gospel of Christ. Is it too early in the week for "Alleluia!"?